Due to the Corona Virus, we are currently serving the needs of our members virtually. We stay connected to our Temple Beth El family members via Zoom.
Please join our Warm, Welcoming and Compassionate Community. We are a diverse Reform Temple Family, with members of different faiths, sexual orientations, gender identities and races.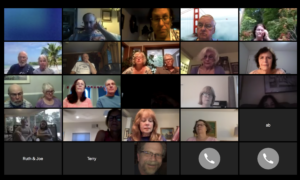 2021 Annual Plant Sale Fundraiser
MUST BE PRE-ORDERED BY APRIL 22, 2021
The plants will be the same as usual, locally grown, hardy beautiful and plentiful. Visit http://tbect.org/plant-sale for more information.
In memory of Rabbi Acrish, please consider signing up to support the
It is a fund raising event sponsored by the American Cancer Society.
Become a member of
Team Acrish!
Walk and schmooze with your friends and support the ACS.
The Relay for Life will be held on
Hopefully this will be an in person event but will also offer a virtual option.
Either way, we want to keep this team going and helping to support ACS in memory of Rabbi Acrish.
For more information, please click on the Relay for Life button below.
Growing & Fostering Our Jewish World
We are a congregation that supports a wide range of programs and activities for members of all ages.
We want to build a community based on inclusives, where everyone is welcome, regardless of age, marital status, sexual orientation, a Jew by birth or  by choice.
    Temple Beth El, "House of God", is a Reform synagogue. While Reform in orientation, the Temple practices liberal Judaism within an atmosphere that is warm and traditional. The Temple, which is affiliated with the Union for Reform Judaism, strives to be a center for religious observance, for Hebrew and cultural education, and for family and social life.
    Temple Beth El is open year round to its congregants and many visitors. Celebration of each of the holidays on the Jewish calendar enables the congregation to experience and   become part of the history and traditions of Judaism, to share these with friends and neighbors, and to strengthen Jewish identity. For members drawn to activity and service there are ample opportunities for doing mitzvot for the Temple and our community through our Sisterhood and Men's Club.