Rabbi Solomon B. Acrish, Ph.D.
Rabbi Sol Acrish was born in Tetuan, Morocco, the eldest of six children of the late Benito and Estrella Acrish. Growing up in Morocco, where Anti-Semitism was prevalent, was difficult and challenging.
Our Rabbi's journey from Morocco to Brewster was propelled by his yearning for a new and different life. Having grown up in an orthodox community, religion was a very important part of his life. He met a Rabbi whom he admired very much and wanted to follow in his footsteps.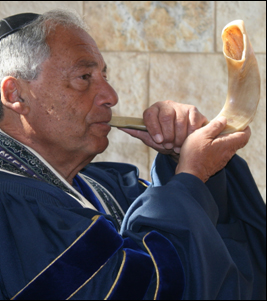 At age 15 he was awarded a scholarship to study in England by the Anglo-Jewish Association. This meant leaving the comfort of family and learning a new language – English!
He enjoyed the freedoms and comfort that England had to offer. Upon completion of his studies, he accepted an assignment to lead his first congregation in a sephardic community in Montgomery, Alabama.  "My services were needed more in America than they were in England. America had very few Sephardic Rabbis. I remained there for five years." At this point he decided to go back to school to become a Reform Rabbi and completed his studies in New York City. He became an Assistant Rabbi in Newburgh, New York.
Rabbi Acrish's relationship with Temple Beth Elohim began in 1966 when he was hired as a part-time Rabbi. Temple Beth Elohim, with a membership then of 25 families, has grown to 228 families with 116 children in the religious school. In addition to his rabbinical duties, Rabbi Acrish worked for the Brewster Central School District as a language teacher, making use of his fluency in seven languages, and then as a School Psychologist. The combination of his interest in Psychology and the wishes of his late son Kevin motivated him to obtain a doctorate degree from the Union Institute in Cincinnati, Ohio.
Rabbi Acrish lived in Patterson, NY with his wife Terri. They took great delight in their son Brian and Brian's two sons, Maximilian and Harrison and daughter, Lily. When not working or playing with his grandchildren, Rabbi Acrish liked to read, exercise, and play the violin.
Rabbi Acrish's words summarize what Temple Beth Elohim and he were all about: "We are a very welcoming, down to earth, caring community. We love our children. Our mission is tikkun olam, to heal the world. If you are looking for a spiritual home and a religious family, we are the place."
Sadly, Rabbi Acrish passed away on Sunday, May 22, 2016 after a long illness.  He is remembered and missed by his congregation every day.  His legacy is our warm, inclusive, all-embracing Temple community.  As we struggle through this difficult time, we see a bright future for our Temple family as we continue to benefit from the wisdom and love given us by our dear Rabbi of 50 years, Solomon B. Acrish.