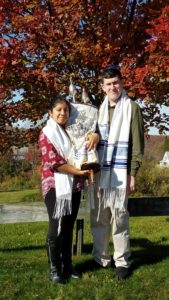 The Sefer Torah – Holocaust Memorial Torah No.  697
This Torah is one of the 1564 Czech Memorial Scrolls which formed part of the Jewish treasures saved in Prague during the Nazi occupation of 1939-45.    They came from the desolate communities of Bohemia and Moravia and were for some time under the control of the Czechoslovak Government.  The Scrolls were housed in a derelict synagogue by curators of the Jewish Museum in Prague, acquired with the help of good friends and brought to Westminster synagogue in 1964.
Our rescued Torah scroll comes from the hamlet of Prcice, near the town of Tabor in Czechoslovakia.  The Torah was written in 1870 and our congregation received it in 1973.  Shortly thereafter, a young woman in our congregation read from the scroll during her Bat Mitzvah ceremony.  Since then, all of our B'nai Mitzvah read from our rescued scroll, and during their service the rabbi speaks about the history of the Torah.  Among other things, she says how wonderful it is that the Torah is still being read, despite the Nazi's attempt to murder all Jewish people.  People who hear about the Torah express how moved they are by its history.
The scroll is on Permanent Loan from the Memorial Scrolls Trust,  www.memorialscrollstrust.org